In the spotlight for almost a year, the production of low-carbon hydrogen is a subject on which Sirea has quickly positioned itself, starting in 2019. After 2 years of development, we have managed to integrate and control a hydrogen production and storage system, generated thanks to the surplus photovoltaic energy of our shaded area.
Only a few months after our teams embarked on the hydrogen adventure with this H+PV innovation project, the national strategy to accelerate the development of low-carbon hydrogen announced support for the sector of 2 billion euros by 2030.
To contextualise this project, the Sirea site already had a photovoltaic shade (21 kWp) in controlled self-consumption, partially financed by the 2019 call for projects "Photovoltaic electric self-consumption in Occitania". Photovoltaic energy allows us to recharge our electric vehicles and power our buildings.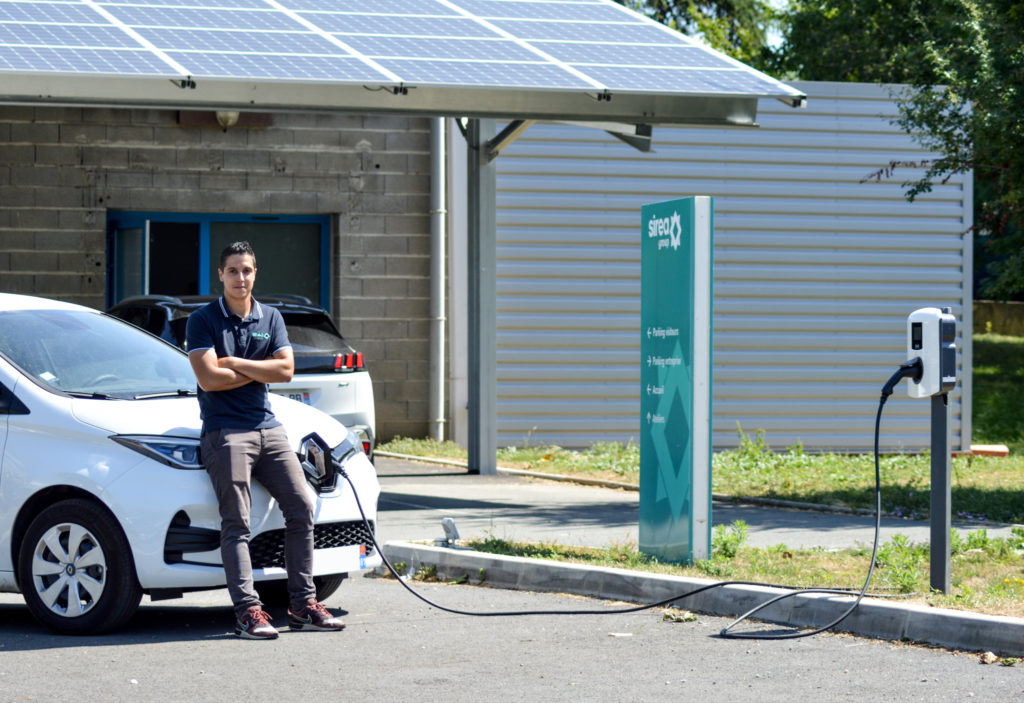 We wanted to optimise our self-consumption rate by storing the surplus energy produced, by connecting 40 kWh of recycled batteries (Phenix Batteries). This technology allows us to ensure short-term storage to quickly recharge our EVs without oversizing the subscription to the electrical network. However, the idea is to go further in exploring the possibilities offered by hydrogen for long-term and inter-seasonal storage.
Hydrogen was the logical next step in this project. Sirea therefore invested in a hydrogen storage solution, which integrates a 430 W electrolyser to convert surplus energy from photovoltaics into hydrogen. Up to 80 kWh of electrical energy can be stored as hydrogen (at 10 bars). Thus, on days of low solar production, the storage system's fuel cell will "burn" the hydrogen released to supply the electricity needed for the building and vehicles, and from this transformation will be released … water!
Today, the challenge for Sirea is to show that beyond the technical feasibility, the compatibility of renewable energies with cleaner ways of storing energy is obvious, whether through second life batteries or hydrogen. There is a definite complementarity between these different storage technologies!

Bruno Bouteille, director of Sirea
To interact with the hydrogen storage and ensure that surplus photovoltaic energy is directed to the electrolyser or to the fuel cell, we use our own intelligent SmartEMS manager.
This PLC designed for energy control already equips several photovoltaic installations in controlled self-consumption, but this will be a first in terms of connecting a hydrogen storage system. The official commissioning of the hydrogen storage system at our Castres site (South of France) is planned for spring 2021.