2014, 2015, 2016, and now 2017 ! Once again this year, Sirea reaches the podium on the famous Ronde Givrée run, a huge sport meeting in Castres' country-side!
Similar to last year, our company succeed to launch 2 teams to run a 58km relay race organized by Les Coureurs de fond de Castres. Sirea 1 and Sirea 2 started their race on 9 AM with other 408 teams.
This is Bruno BOUTEILLE who ran the first step measuring 15km for Sirea 1, and Sylvain ROBINSON for Sirea 2. Bruno finished in 00:57:03, gave to Sirea 1 the 19th position, and was squeezed out by David GRAND who didn't run under Sirea colors as last year. Regarding Sylvain, he gave to Sirea 2 the 386th position by finishing in 01:30:08.
Then Isabelle CHRISTOPH started the 10km step after Bruno hand over the baton to her. She run in 00:44:51, and ranked the 65th time of the step (and the third female time) ! Arnaud ASSIE took the step for Sirea 2, and finished his 10km in 00:52:29 (204th time of this step).
Harder things start now, on the second 15km with more meter to climb, where Christophe BERTINO realized the 11th time (00:59:21) of this step, and place Sirea 1 team to the 16th position ! For Sirea 2, that's Jean-Baptiste ANIEL who ran this hard race and finished it in 01:10:59, the 103th performance on this step !
Final lap for our two teams, which Samuel KIM (Sirea 1) and Johan TRIVELLIN (Sirea 2) went on the harder race, measuring 18km and called "trail", due to all the technical parts of the race. Samuel wasn't scared and finished with the 23th time on this step (01:20:34), putting Sirea on the 14th position on final rank, 4 places better than last year! Johan finished the trail in 01:51:04 (the 331th time) and give to Sirea 2 the 299th position.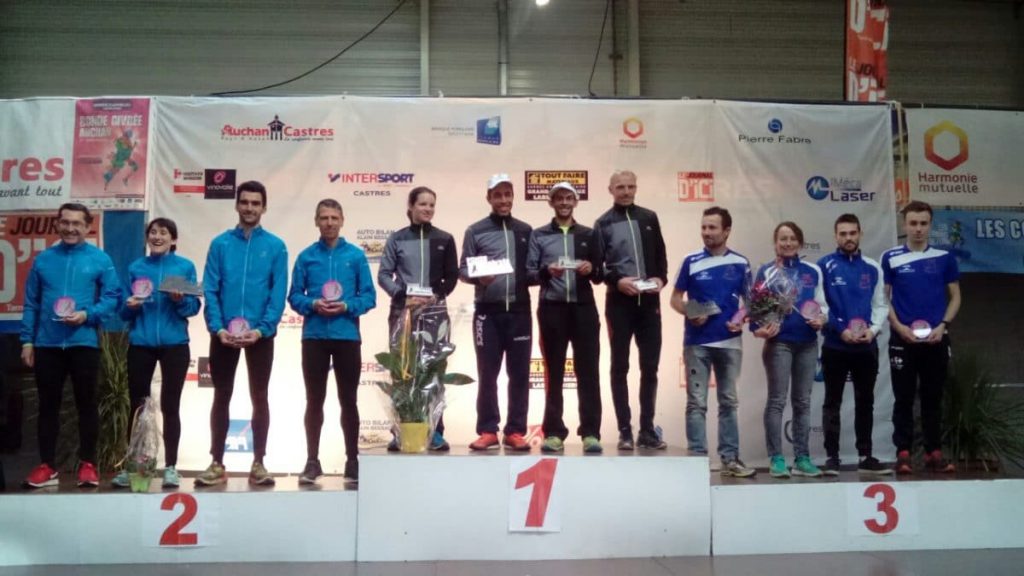 In conclusion, it's a great silver medal for Sirea 1 in Mixte 1 (3 male / 1 female) category, who reached for the fourth time the podium (on the left on the picture), and an amazing 23th place in company category for Sirea 2!
Thank you so much Christophe BERTINO and Samuel KIM who joined Sirea runners team for this 35th edition of Ronde Givrée, and thank you our runners too who greatly defended our company on this athletic challenge!